WATERFLES 1 LITER: 'Sophisticated Chic' Water bottle
💦 ELEGANT, CHIC AND SUPER LIGHT
Drinking is important. Aquachic makes it easier to stay hydrated in style. Make drinking water fun. The lightweight Aquachic bottle will steal the show wherever you are.
💦 FUNCTIONAL SIZE AND TIME MARKERS
Bottles with a capacity of 1 liter and handy time markers on both sides so that you can easily drink 2 liters of water per day. The time markers include morning and afternoon half-days. The water bottle is 28 cm high and has a diameter of Ø 7.5 cm. Easy to use at work, during college, yoga, fitness, sports, when traveling or of course at home. With ideal mouth opening so that you can easily drink from the bottle.
💦 QUALITY
The bottle feels silky soft in the hand. Empty the bottle weighs just over 100 grams. Made from food-safe Tritan plastic, this is 100% BPA free and food safe. Also nice as a gift!
💦 ECOLOGICAL CHOICE
"The Sustainable Chic Way". Improve the environment with your Aquachic drinking bottle. Reuse your bottle to reduce everyday plastic waste. Our Aquachic water bottles are 100% recyclable and durable, the best choice for our planet.
💦 DUTCH BRAND
Aquachic, designed with love in the Netherlands at the end of 2020. Officially launched in January 2021, we want to make the world a lot greener step by step. Together we make the difference.
Order before 3 pm and we will ship your package the same day!
Delivery times may differ per country.
NL generally 1 working day / BE 2 working days
Other European countries 3-7 business days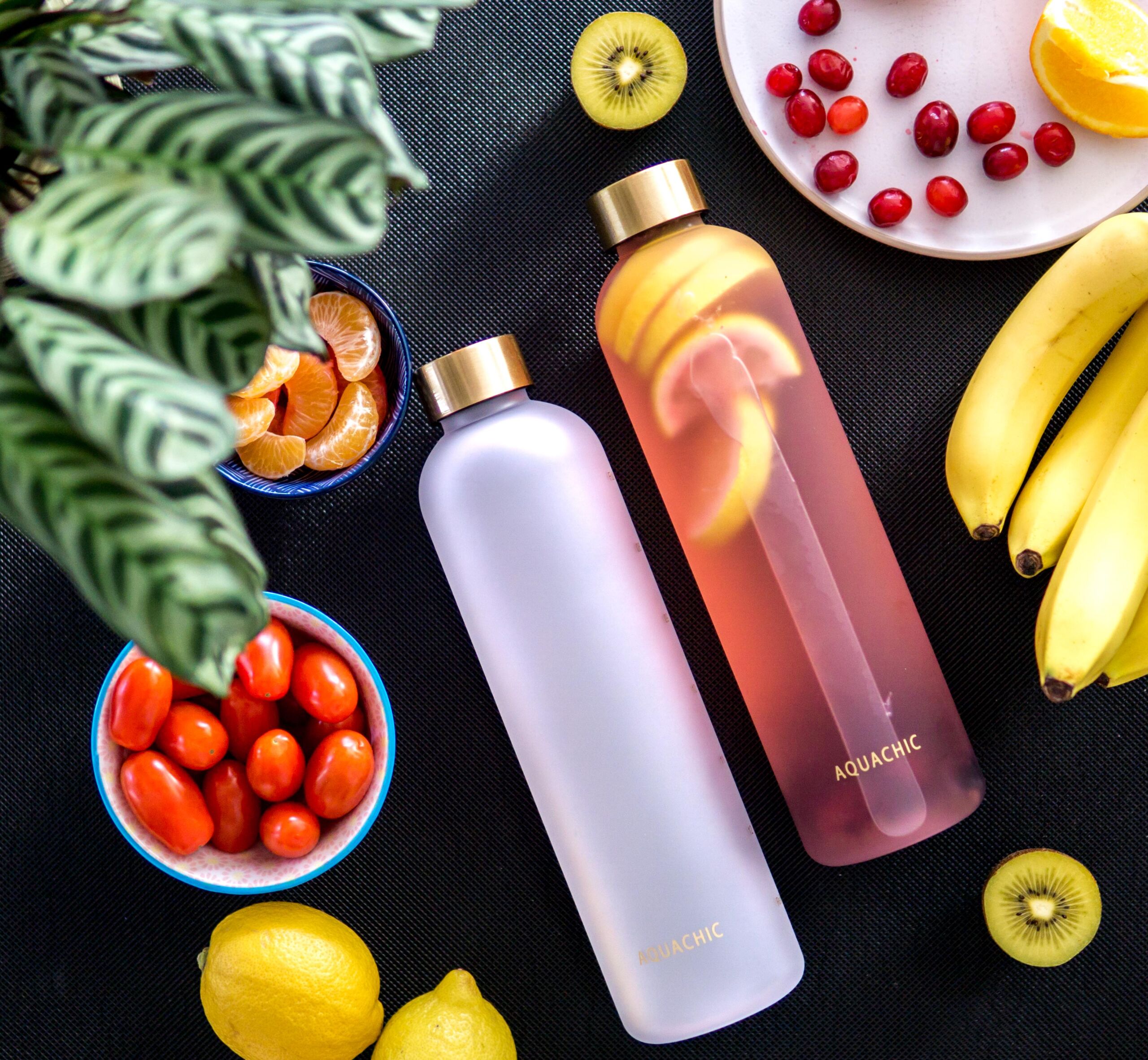 With this elegant water bottle you will never forget to drink water again. The handy time markers on the side of the bottle remind you to drink water. New updated version now comes with two lids. One in the gold color and another lid in a soft grey color.
Reuse the Aquachic bottle and improve your ecological footprint. For example at work or school, while traveling, during sports and of course nice and comfy at home.
Staying hydrated, the easy and chic way
Did you know that more than half of the people drink too little water?
Make drinking water easier and more fun with Aquachic.
Handy time markers on the side so that you can easily drink enough water in a day!
✔ Leak free
✔ Two lids
✔ Ultra light
✔ Ecological choice
✔ Foodsafe
✔ Chic elegant design
✔ Silky soft in the hand
✔ Handy time markers; morning and afternoon
✔ Also suitable for sparkling drinks
✔ Dutch brand since 2021